Temps de lecture :
7
minutes.
Préambule
Je ne suis pas fou.
Dramaticule
Longtemps je me suis levé de pas si bonne heure, mon seul objectif restant, une fois les nuages dissipés, de me poser devant le téléviseur familial et de tremper l'une après l'autre mes deux tartines matinales dans mon mug de chocolat chaud (et matinal).
Petit-déjeuner classique, certes, à cet âge, mais petit-déjeuner de champion quand même.
Cette coutume m'a suivi une fois le nid parental quitté et le CDI trouvé. Ce dernier a d'ailleurs eu une forte influence sur mes matinées : je me devais d'arriver à l'heure au bureau malgré la distance en trains de banlieue, mais je ne voulais pas pour autant sacrifier mes heures de sommeil.
J'ai donc choisi le sacrifice ultime : fi des tartines tartinées ; fi de la poudre de cacao lactée. Juste le lait, frais, dans un verre, siroté en regardant pensivement par la fenêtre.
Toujours le même verre, bleu ; toujours le même format de bouteille de lait, avec une poignée. Consistency is key.
J'avais à l'époque cette curieuse compréhension, sans doute d'influence familiale, qu'il ne fallait pas retirer entièrement l'opercule afin de mieux préserver le lait1J'en vois qui se moquent, mais selon un sondage auprès d'une large population de pas moins de 38 personnes sur Mastodon et sur Twitter, près de 42% de la population française l'a fait (41,25%, pour être précis), voire le fait encore.. Je l'ouvrais donc seulement à moitié, versais le blanc nectar, repliais l'aluminium de l'opercule pour recouvrir l'orifice de la bouteille, et vissais le capuchon par-dessus l'opercule plié avant de ranger le tout au frigo, bien à la verticale, jusqu'au lendemain matin.
Combien de bouteilles bues ? combien d'opercules semi-ouverts ? je ne saurai l'estimer…
… si ce n'est pour cette courte période de ma vie où je les ais comptées.
Opercule
Comme l'a rappelé Jeff Buckley en introduction de Night Flight, l'une de ses reprises du Sin-é EP, « If you do anything regularly for a while, sooner or later, the weirdoes will show up« .
Bon, là, seul dans ma cuisine avec ma bouteille de lait, il me revenait de jouer le rôle du weirdo.
En l'occurrence, cet opercule me questionnait. Surtout, le placement de la languette du-dit opercule, qui faisait que l'on ouvrait icelui dans un sens ou dans un autre.
À force d'ouvrir moult opercules pour moult bouteilles à l'aide de2Vous l'aurez deviné. moult languettes, j'en suis venu à un questionnement fondamental, pendant le pensif sirotage matinal de lait devant la fenêtre :
Les bouteilles de lait sont-elles majoritairement conçues pour les droitiers ou les gauchers ?

Source : tkt frer
Bear with me for a minute, and you'll see what I mean.
Voyez-vous, la languette n'est pas toujours placée exactement au même endroit sur l'orifice. Résultat, si l'on se repose systématiquement sur celle-ci pour ouvrir à moitié l'opercule, on se retrouve avec un versement idéal du lait qui se fait tantôt vers la gauche, tantôt vers la droite de la poignée de la bouteille.
Ainsi, certains matins tout va bien et l'on peut verser le lait avec sa main dominante. Et certains autres matins, on ouvre l'opercule pour se rendre compte que, pour les quelques verres à venir, on devra faire le versement à l'aide de l'autre main3Qui n'a même pas de petit nom scientifique, semble-t-il.. Ewww…
Deux images valant deux mille mots, voici :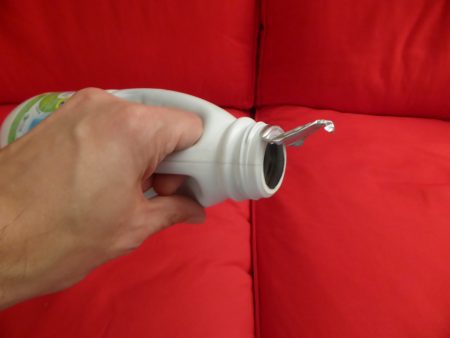 Comment savoir si la filière laitière de l'industrie agroalimentaire mondiale ne fomente pas en ce moment même un complot visant l'une ou l'autre de nos chères préférences manuelles4Venues de la petite enfance, rappelons-le. Ils s'en prennent aux enfant ! ?
Oui, vraiment, comment ? Qui pour nous défendre ? Quel chevalier blanc aura un destrier assez fier pour mener à bien ce combat pour les générations futures ?
Oui, qui ?
*soupir*
Notule
J'ai donc commencé à garder les bouteilles que j'ouvrais (et buvais), prenant soin de les nettoyer et surtout de les conserver avec leurs opercules encore attachés.
Lorsque j'ai décidé de mettre fin à mon inlassable collecte de données, j'avais 73 bouteilles en stock, dans je ne sais combien de cartons — mais en tout cas, ça prenait de la place dans ma cave.
Pourquoi les avoir stockées ? Pourquoi ne pas avoir, pour chaque bouteille ouverte par la languette de l'opercule, simplement pris note du sens de la-dite ouverture, et puis jeté la bouteille une fois les notes terminées ?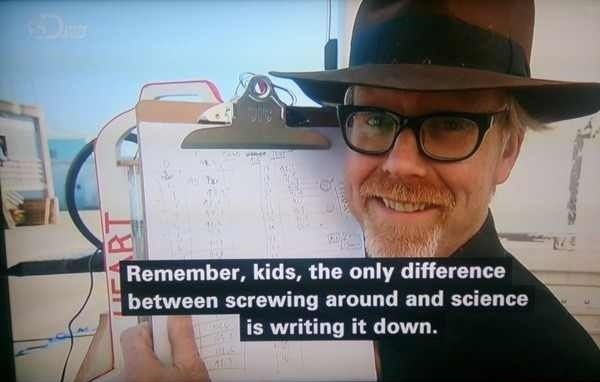 Parce qu'il est facile de falsifier des preuves. Je voulais agir en bon scientifique, et pouvoir montrer des preuves de ce que j'avançais. Cela supposait une photo finale, regroupant toutes les bouteilles.
Cette photo, en somme :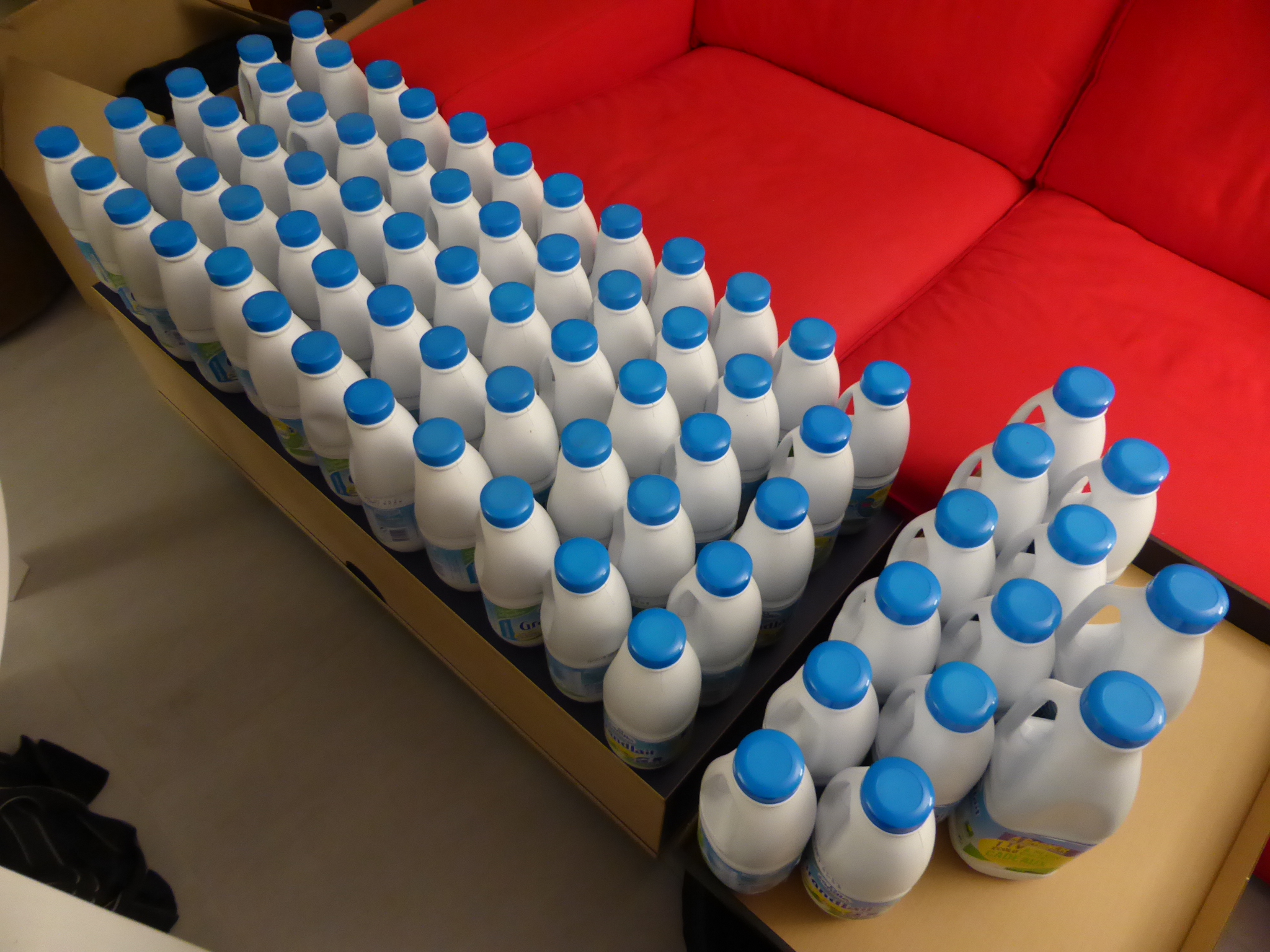 Ou, pour la science, celle sans capuchons (attention les yeux) :
Notez que toutes les poignées des bouteilles sont dans le même sens, mais pas les languettes ! #complot !
J'ai bien d'autres photos, que j'enverrai à toute publication scientifique sérieuse qui voudra se faire l'écho de cette étude sourcée. Haha.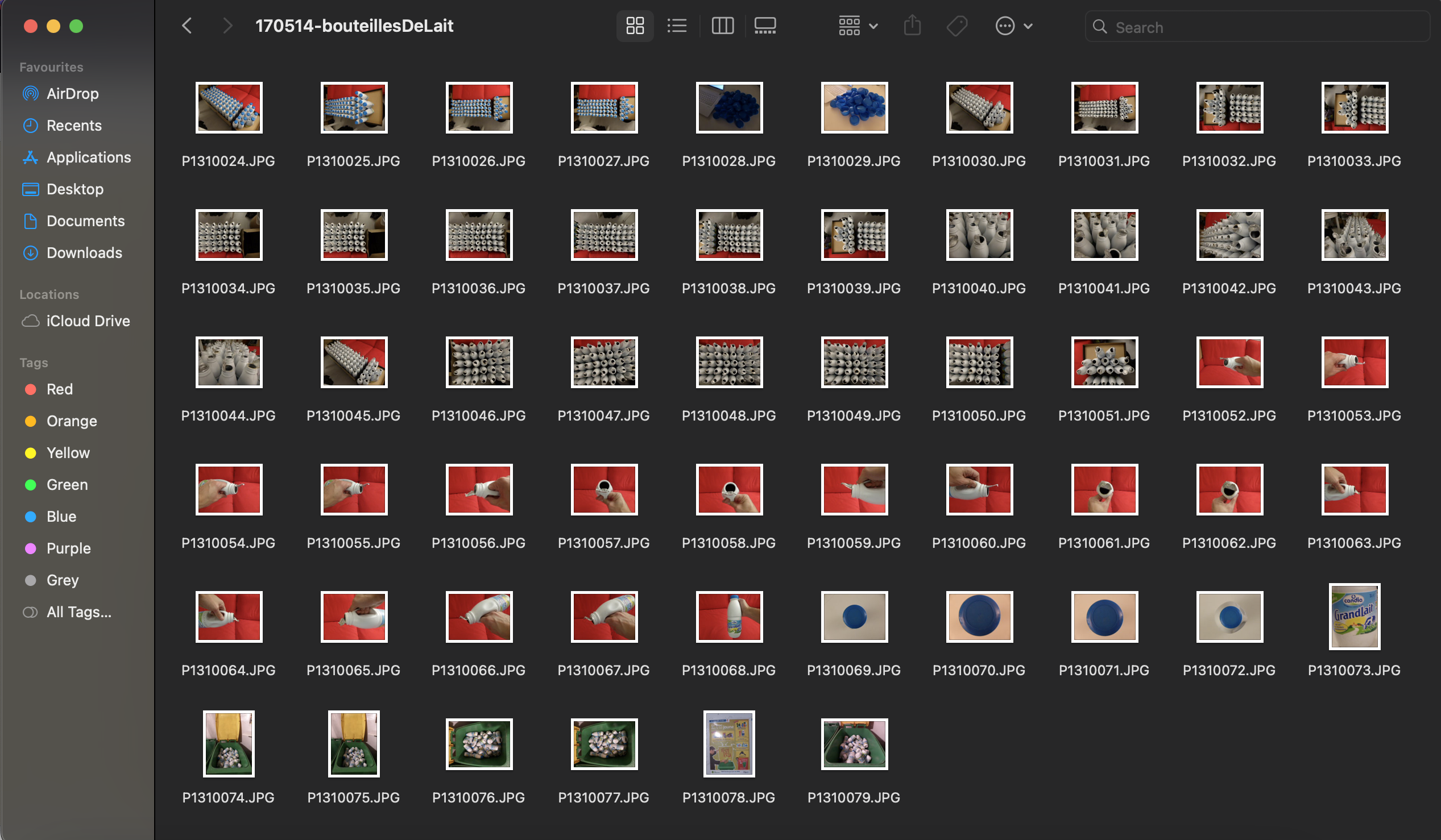 Calcul
J'avais donc plein de bouteilles en stock, mais pas de notes. Clairement, je faisais de la collectionnite en attendant la motivation pour La Science.
Cette motivation est venue non pas au premier déménagement de mon charmant couple, mais juste avant le second, en 2017. Allais-je déménager à nouveau avec X cartons de bouteilles de lait vides5Et propres, j'insiste. ? Non, non, soyons raisonnables6Le fait que l'alors-futur appartement n'ait pas de cave n'a aucunement joué de rôle en faveur de l'épée de Damoclès qui surplombait alors ce projet lunaire. Du tout..
J'ai donc pris mon courage à deux mains une après-midi, tandis que nous commencions à mettre en carton nos affaires utiles, elles.
J'ai étalé les bouteilles sur notre table du salon, comme le montre si bien la photo ci-dessus, et j'ai débouchonné avec ténacité, et j'ai pris des photos, et surtout, pour reprendre la citation elle-même ci-dessus, j'ai (enfin) pris des notes. Science!
Quelles notes prendre ?
On pourrait se limiter à la base : le sens de l'ouverture, indiquant qui celle-ci favorisait.
Cela nous donnerait les statistiques de favoritisme suivantes :
D pour les droitiers,
G pour les gauchers,
A pour les ambidextres (meilleur scénario matinal),
et AA pour un opercule anti-ambidextre (pire scénario au réveil).
Mais la Science requiert la Vérité Totale. Alors j'ai noté toutes les métadonnées que je pouvais trouver sur l'étiquette ou le bouchon :
Marque (toujours Candia)
Produit (toujours GrandLait)
Type (toujours demi-écrémé)
Contenance (majoritairement 1L, avec de rares 1,5L)
Code barre
Date DLC
Et d'autres indications que je n'ai pas su déchiffrer : F16, F21, D.12181.F, DE, T64, etc.
Par la puissance de Google Sheet7Et de StackOverflow, car je n'y pifre rien aux formules Excel., voici le graphique qui révélera à vos yeux ébaubis toute la triste vérité :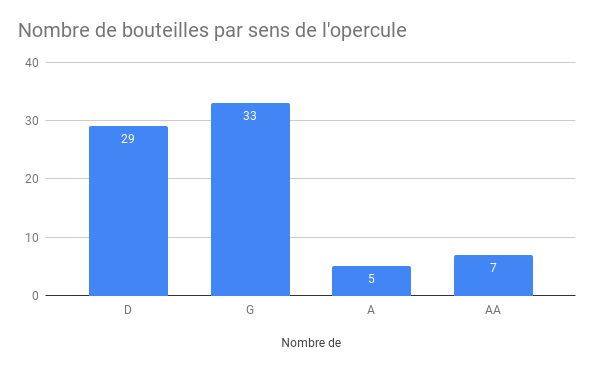 Force est de constater qu'il y a :
presque autant de G que de D,
presque autant de A que de AA.
Il appert donc que le distribution de la languette permettant l'ouverture sereine d'une bouteille de lait GrandLait de Candia se fasse de manière tout a fait aléatoire.
La triste vérité est donc que nous obtenons un résultat tristement normal.
Mpff…
Ou alors… Il y a 4 G de plus que de D… Serait-ce là la marque d'un complot plus insidieux et subtil que je n'osais l'imaginer ? Les gauchers sont-ils à très long terme une menace pour les buveurs de lait droitiers ?
L'enquête doit-elle vraiment s'arrêter là ?
---
Voilà, c'est fait, toutes les données ont été saisies, je vais pouvoir vider quelques cartons et… remplir une poubelle verte.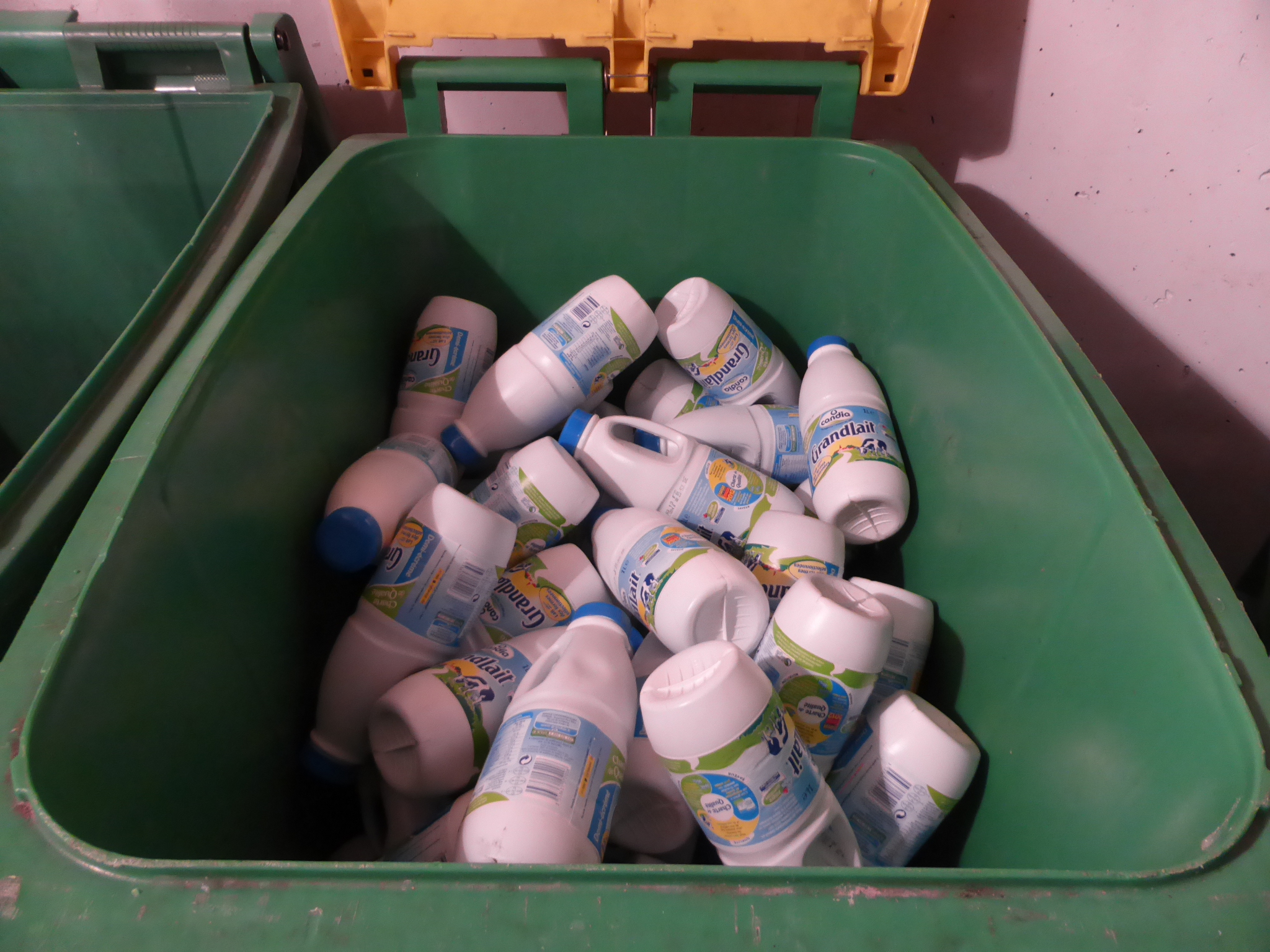 Ceci étant fait, je m'empresse de finir mon déménagement, laissant promptement toute cette petite histoire se perdre dans les limbes du Pacifique…
Pédoncule
Mangez des pommes.
Postambule
2023.
J'ai depuis longtemps oublié ces relevés, ces bouteilles et ces opercules — ce malgré les litres de lait écoulés depuis pour l'Enfant. Mais le lait est maintenant acheté en briques de carton, pour des questions de compression et de place dans la poubelle, et point d'opercule en vue.
… Jusqu'à ce que j'achète une bouteille de lait, par manque de brique cette semaine-là au magasin, j'imagine. Candia GrandLait, très bien, ça fera l'affaire.
Un matin je sors la bouteille du stock afin de préparer le biberon du Saint Enfant. Je retire le capuchon et… je me retrouve face à l'opercule, qui protège hermétiquement le contenu liquide. Et à nouveau, face à ce questionnement cosmique d'antan.
Je suis ramené à ce délire d'il y a quelques années, je me demande où sont passées les photos8Et si mon disque de backup fonctionne toujours., je me rends compte que depuis j'ai compris que l'opercule doit être entièrement retiré9D'autres se posent toujours la questions., je me souviens de toutes ces bouteilles qui occupaient plusieurs tiroirs10J'avais une cuisine démesurément grande. puis des cartons entiers11J'avais une cave., cartons qui ont déménagé d'un appartement à l'autre avant que je ne me décide à les prendre en photo et jeter le tout12Mon épouse peut être très patiente avec mes délires. Un temps..
Je retrouverai le soir-même sur mon GDrive le fichier GSheet des relevés. Il est daté du 14 mai 2017, presque 6 ans jour pour jour avant le début de la rédaction du présent article. Les relevés des données des bouteilles indiquent des dates limites de consommation allant de 2012 à 2104, soit 10 ans avant ma redécouverte de ce fichier.
J'ai donc conservé ces bouteilles pendant 3 à 5 ans avant de prendre des notes, des photos, et de jeter le tout13Trrrrrès patiente..
Et je me retrouve ce matin, par les hasards du Temps et du Destin, face à la 74e bouteille. La dernière bouteille.
Peut-être est-ce là l'occasion de l'écrire, cet article trop long résumant tout ce projet ridicule ? Il me faudrait une chute.
Allez, le petit réclame son petit-déjeuner.
Je retire l'opercule en commençant par la languette, et :